Don´t buy a new e-bike. Instead, transform your existing bike into a powerful e-bike within seconds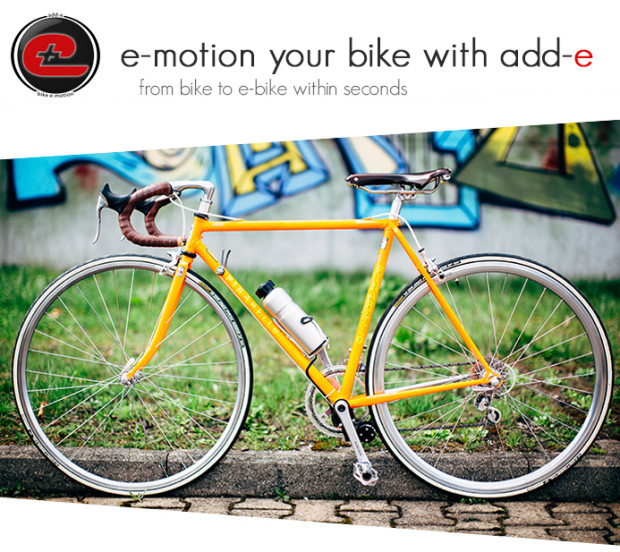 You love cycling but because it can be exhausting you are thinking about an e-bike? Even more, you love your own bike and don´t want to change it for a heavy and bulky e-bike? This is a true dilemma and makes add-e the answer. New technology, high quality materials and quality engineering now makes it possible to turn your own bike into an e-bike with style. Mounted within seconds! With add-e you can choose to use your bike as a normal bicycle or as an e-bike. You can have 2 in 1. No additional space needed, eco-friendly and most of all with add-e you save money. Just pimp your own beloved bike and do some easygoing cycling, but in style.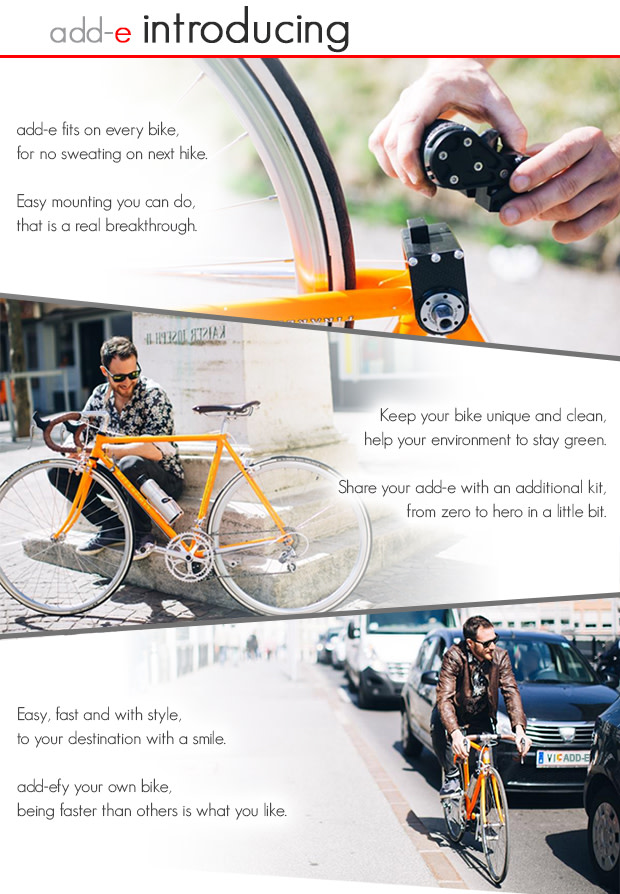 add-e is a true lightweight champion with an outstanding performance. The inconspicuous design and modular set-up allows it not only to be mounted on almost every bike, but can be easily self-mounted without the need for any modifications. Besides its unique design, with add-e it is possible to use your bike as an e-bike as well as a normal bike. You´ll have 2 options in 1. It is up to you to choose when you need the extra power while riding. How does add-e do this? The special mechanism, undocks the drive unit in off-mode (when not pedalling) letting the tyre to run totally friction free.
Smaller, lighter, faster… add-e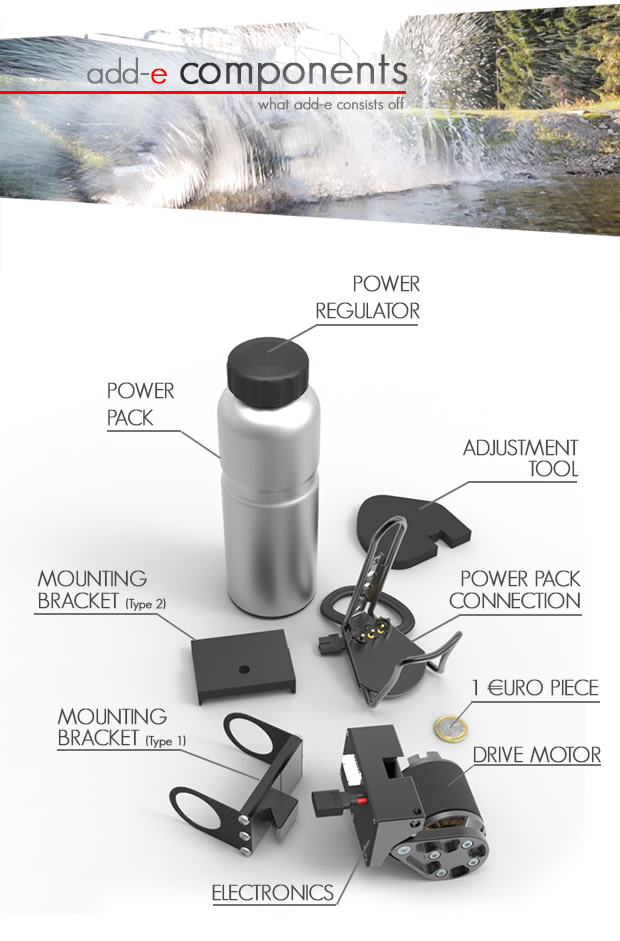 Add-e can be fitted to almost any bicycle without trouble, by using the mounting brackets provided. You can fit the assembly yourself without having to make alterations to the bike.
Type 1 (Pedal bearing fitting) is the ideal solution for racing bikes, mountain bikes and many types of trekking bikes. The frame around the pedal bearing is standard which simplifies the fitting. In this case the mounting bracket is fitted on top of the pedal bearing and fastened securely.
Type 2 (Kickstand fitting) is the ideal solution for city bikes and older bicycles with a classical kickstand bracket. With this version the mounting bracket is bolted directly onto the kickstand bracket. However, if you are not quite sure which version you need drop us an Email and we will be pleased to assist you.
Add-e is a friction roller drive. This means that the wheel of the bicycle is directly driven without the need of a gearbox. The most efficient performance is achieved over tyres that have a smooth tread. After the initial fitting, the drive unit can be removed from the bicycle and re-fitted within seconds. video
Additional mounting kits enable the use of add-e on a number of bikes. The drive unit and the battery can be switched easily between two (or more) bikes. Therefore you can upgrade multiple bicycles with little money.
Add-e is built according to the European Pedelec Standards. This means that the motor only drives when pedalling at the same time. When you stop pedalling, add-e stops as well. This simple control system makes additional handlebar components completely unnecessary. The animation shows how it really works.